News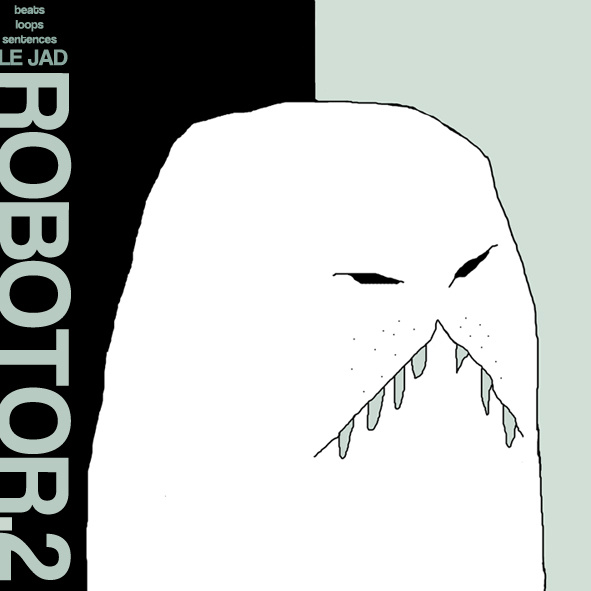 Published on December 2nd, 2013 | by Vekked
3
New Le Jad Scratch Tool + Interview!
Le Jad just dropped yet another scratch tool called Robotor 2 containing 68 tracks of samples, beats, and loops. You can grab it on his Bandcamp here:
I hit him up for a short little interview for people who aren't completely familiar. Just in case you don't know, he is a producer who has worked on routines for world DMC champs including Netik, Rafik, Lig-One, Unkut, and many other DJs, and has released a ton of scratch records and digital scratch tools. Here's what he had to say:
———
TTW: How long have you been producing?
Le Jad: I started production in 2004/2005 or something, before that I was was more into deejaying.
TTW: What made you get into producing scratch beats, scratch banks, and DMC routines?
Le Jad: I was a fan of turntablism before I started producing. I was a typical DJ, but I was very focused on mix skills, FX, etc. It was when I met Ordoeuvre that turntablism became a passion. It was natural to produce scratch beats. I love to producing scratch beats, even more than songs. There are so many dope beatmakers who wouldn't be able to understand how to produce a good scratch beat.
TTW: What is your favourite part of any routine you have produced?
Le Jad: Hum… I don't know. I love the guitar riff that I produced for Rafik, it was a few tones mixed with rides and a crash; the result is simple and efficient. BUT, Unkut's dubstep routine and his drumming were bigger challenges. I really have to be a good technician when I create for such a beast. We were working as one person with a lot of pressure. I don't think it's something I can do again in this life time.
TTW: What was your biggest challenge?
Le Jad: To have children, which I did, but with regard to turntablism and competitions my biggest challenge is not just to collaborate with champions. My biggest challenge is not to be the best producer for the best turntablist and to get title. No. The biggest challenge is to cater to the needs of most turntablists. Even at times when I don't know how to make things that people request… I have to.
TTW: What are the biggest weaknesses you see in routines from a sound/production perspective?
Le Jad: Over produced sets. DJs who produce patterns that are stronger than their turntablists skills… when they're hiding behind the production, and the production is leading them. They try to manipulate complex patterns and they lose themselves in the sounds themselves, rather than what is created by their skills and stage presence.

Battle DJs often want to have powerful sounds like in the clubs where they mix. I can understand that, but turntablism is an art. You need both skills and sounds. Either the current scene will be evolve or it will die. I'm not necessarily suggesting that we bring it back to the old school, I'm just saying: show your soul by how you use your skills and manipulate the sounds. Then, everything will be OK.
TTW: Do you have any advice for people who want to enhance their own production for routines?
Le Jad: It's a complex question. On a basic level, production is here to help do things like cut some parts of a song, copy and paste stuff, and organise your own record.

If you want to create something new, it's something else altogether. The question you have to ask yourself is: why do I need to produce something?

The right answer, to me, is: in order to have the best material to push my skills at their best. (And of course, because you want to create something that is completely your own). Nobody has done it perfectly yet. So my advice to newcomers is: take production step by step with respect to your skill level.
TTW: What is Robotor 2 about? Any theme or inspiration for it? Do you have any other projects you're working on? Both in turntablism and otherwise.
Le Jad: Robotor 2 is a continuation of the first volume. Lots of basslines, synths, and hard beats for routines, but also sweet beats and melodies. What's interesting about this one is that I produced a lot of skip proof tracks/loops, so you can copy, paste, cut, and recreate your own sentences and patterns. I always want to take pleasure in what I produce. Some beats that I release will only be used by a few people because, since I have no boss, if I like it I don't have to care about what the label will think and be afraid to release something…

ALSO important to note: I'm not here to educate people. I'm experimenting a lot, I always do, but I also have to cater to feedback from the turntablists using my tools. I have to listen to them and consider what kind of tools they would like to use. All of my new releases are made this way: a combination of my own experimentations/tastes AND me catering to people who use my material to create things.
TTW: Any more projects coming up?
Le Jad: I have some ideas for new scratch tools that have never been done. The ideas are crazy dope, but I would need money, or a sponsor, or something. I think the ideas could be really dope for the turntablism scene. The ideas are there, but the money isn't.

I also plan on releasing some more vinyl. It will come out in 2014.

I would also like to work with Rafik, LigOne and Unkut again. I would like to do stuff with Qbert, D-style, Craze too but they have better things to do. I'd also really like to work with DJ Precision, he's one of my heroes. I would love to create something for him some time…
——–
Shouts to Le Jad for the interview, and if you want to check out more Le Jad stuff you can find him online here:
Homepage: http://www.lejad.com
Facebook: https://www.facebook.com/LE.JAD.MUSIC
Bandcamp: http://lejad.bandcamp.com/